Description
Life zones and habitat: Montane to alpine (8000 to 13,500 ft); open, dry areas such as clearings, meadows, talus slopes, etc.
Plant: Erect perennial with multiple, leafy stems up to 2 feet tall.
Leaves: Basal leaves lanceolate to ovate 1-1/2 to 3-1/2 inches long, on petioles and entire to dentate margins; stem leave sessile, lanceolate to oblanceolate, smooth margins, and arranged in opposite pairs, 1 to 2-1/2+ inches long.
Inflorescence: Dark purple (usually) blossoms in 2 to 5 one-side clusters atop and along stem; blossoms pointing slightly downward; also occurs in red-violet, off-white, lilac and bi-colored lilac and white; corolla glandular-hairy on outside, lower lobes with long hairs; staminode with a tuft of yellow hairs at tip; blue anthers smooth.
Bloom Period: June to September.
References: "The Alpine Flora of the Rocky Mountains" by Richard W. Scott, "Flora of Colorado" by Jennifer Ackerfield and American Southwest.
Notes: To view the purple version of P. whippleanus click here.
BONAP Distribution Map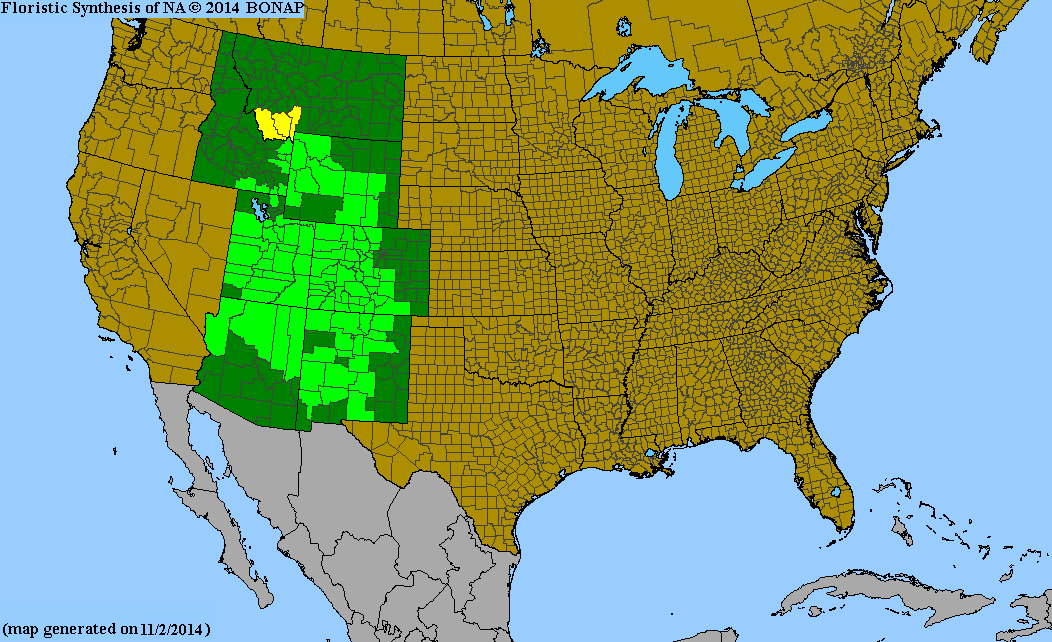 Map Color Key
Colorado Status:
Native